Back to New Listing
Horizon School Division Welcomes New Principal for Vauxhall Elementary School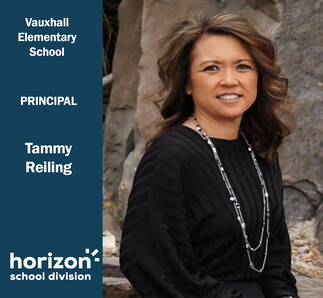 The Board of Trustees for The Horizon School Division is pleased to announce the appointment of Mrs. Tammy Reiling as the new principal of Vauxhall Elementary School commencing with the 2023-2024 school year.                          
Mrs. Reiling has a deep-rooted passion for education and is looking forward to this new role in her career. Mrs. Reiling has a Bachelor of Education degree with an Elementary Language Arts major from the University of Calgary and has 25 years of teaching experience, all within the Horizon School Division and recognizes the importance of building strong relationships with staff, students and community members.  In addition to her dedication to education, Tammy leads an active and balanced lifestyle.  Tammy likes to exercise and this allows her to maintain both physical and mental well being.  In her spare time, Tammy adamantly supports her daughter, who plays university volleyball in Portland, Oregon and also follow her son, who is a member of the Vauxhall Academy Jets team, and finds joy in witnessing his progress and success in the sport.
Tammy is married to Scott, who has been the Vice Principal at Vauxhall High School for many years.  As members of the community of Vauxhall, they are very connected to the schools.  Tammy is grateful for the opportunity to embark on this new chapter of her career.
Please join us in congratulating Mrs. Tammy Reiling in her new assignment, with The Horizon School Division, commencing the 2023-2024 school year.
Marie Logan, Board Chair