Our Division
Mission Statement (Our approach to reaching our desired future)
"Engaging and empowering all learners."
Statement of Values
Horizon is a learning community that values
continual improvement
inclusion and respecting diversity
fostering effective relationships
welcoming, caring, respectful, and safe learning environments
collaboration
accountability
Vision (Desired future)
Students will gain the knowledge and skills to be contributing citizens and the desire to develop as life-long learners.
Profile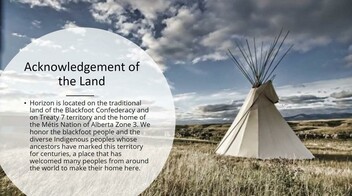 The Horizon School Division is a rural jurisdiction situated between the cities of Medicine Hat and Lethbridge spanning from Coutts on the Canada/US border to Lomond in the County of Vulcan. The Division provides education services to approximately 3500 students and consists of 20 schools of various grade configurations in the communities of Barnwell, Enchant, Grassy Lake, Hays, Lomond, Milk River, Taber, Vauxhall, and Warner, plus two Christian Alternative School, and three Outreach schools. Additionally, there are 19 Hutterian Brethren schools scattered throughout the Division as well as one elite sport academy (Vauxhall Academy of Baseball). Horizon serves, a substantial population of Low German-speaking Mennonite families. As a result, a significant percentage of Horizon's student population are English Language Learners.
In many of our rural schools, the number of students per grade is small, which has necessitated some double and even triple grading. Furthermore, school subjects are often cycled in multi-graded classrooms, which results in students writing exams a full year after completing the course.
Although our smaller schools face some unique challenges, a small school environment can provide advantages for the students. Smaller class sizes mean more individual attention. These schools are characterized by open and welcoming atmospheres that are safe, secure and strongly connected to the community. Our communities are very supportive of their local school and are actively involved in promoting quality educational experiences for the young people who attend there. Some schools and communities have been very proactive in developing Alternative Programs to attract students. Vauxhall Academy of Baseball has brought students from across the province and country to participate in elite level athletics. Horizon School Division is also very fortunate to have a superior staff who endeavor to do whatever it takes to meet the learning needs of the students we serve.
Over the past ten years, a substantial population of Low German Mennonite families from Mexico and other Central American countries has moved into the area. Almost all of these families have settled in the area around Taber, Vauxhall, Enchant, Barnwell, and Grassy Lake. The Division endeavours to accommodate children from these families and encourages their enrolment in our schools. A Kanadier Mennonite Learning Program provides an education setting that respects culture and integrates cultural components that the parents have identified as an important part of their children's' educational program. 
The number of Hutterian Brethren schools has also increased, and it is anticipated that this trend will continue. Most Low German Mennonite and Hutterite students are English Second Language students. As such, Horizon has a significant percentage of ESL students. Over 40% of the students writing provincial achievement tests at the grade 3 level are ESL. Even with such a high number of ESL students, student achievement in Horizon School Division, as measured by Provincial Achievement Tests and Diploma Exams, generally meets or exceeds provincial standards and is above provincial averages. 
Horizon School Division continues to offer exemplary inclusive educational programming for students with special needs. The number of students with special needs has remained constant over the past school year. Proportionately, Horizon School Division continues to have higher numbers of students with special needs than the provincial average.