Off-Campus Education
Off-Campus Programming during Covid-19 Restrictions
Dear Parents:
Due to the new government restrictions this letter is to help clarify how your child can move forward with their off-campus program. The most important piece is that all students are following the necessary safety procedures and precautions to maintain their safety. The
expectation is that businesses will comply with new health guidelines and thus hours may
fluctuate for students. If at any time you do not feel your child's placement is following adequate protocol please contact me immediately.
Students:
May increase or decrease work hours with conversation between student, family and
employer.
Are required to inform employers of any changes to their schedule or work hours.
Are not to put work before academic obligations.
Are required to still submit hours on a regular basis.
Can connect with the Off-Campus teacher through email, text, video conferencing or by appointment.
If you have any questions or concerns please do not hesitate to contact me.
Respectfully,
Heather
heather.brantner@horizon.ab.ca
Cell: 587-370-7187
Off-Campus Education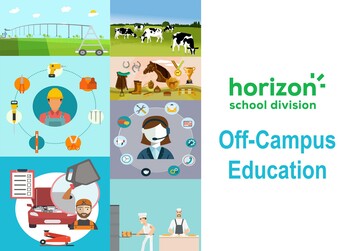 Off-Campus Education 
Off-campus is an important part of your education. It is designed to help you connect with the world of work while you are in school. Horizon School Division offers the following programs:
Work Experience, Registered Apprenticeship Program (RAP), Volunteerism and the Green Certificate Program. If you are interested in any of the programs listed above please complete the google form Off-Campus Pre-Registration .
Overview of Programs
Work Experience- what are the benefits of this program?
Earn up to 15 credits towards your high school diploma ( every 25 hours =1credit, with a minimum of 75 hours for submission)
Include your work experience on your resume 
Use your work experience mark for the Alexander Rutherford Scholarship to boost your average for your Grade 10, Grade 11 and Grade 12 marks.
Can be used  as a fifth entrance course for many university and college programs (check with your teacher counselor for specifics). For example, to apply for the Registered Nursing program, you need English 30-1, Chem. 30, Bio. 30, Math 30-2 and a fifth course. 
Graduate with more than 100 credits to give yourself a buffer. 
Use work experience to find out if your potential career is the one you really want to follow. Even if you first go to post-secondary after the work experience, many employers will remember you once you begin looking for full time jobs in your field.
Registered Apprenticeship Program (R.A.P.)Get a head start on a trade. 
Most trades are 4 years in length and 1500 hours of work each year. All of the hours the students work in high school go towards that first year and beyond.
Earn significant high school credits and earn while you learn ( up to 40).Build your skill set and your resume. 
Even if you do not pursue the trade after high school, you developed a skill set of critical thinking, learning to work safely, following multiple instructions, developing a strong work ethic etc. that employers are looking for.It's an opportunity to dovetail career paths and education types: for example, become an electrician (college) and an electrical engineer (university). What an excellent way of combining the practical and theoretical ways of learning
For more information on the RAP program, you can visit Careers the Next Generation.
Green Certification
The Green Certificate Program provides trainees with opportunities to enter a variety of agriculture-related, structured learning pathways as a part of their senior high school program and to earn up to 16  credits and a credential leading to a career in agribusiness.
Students learn on the job, under the direction of experienced farm personnel and under the supervision and administration of Alberta Agriculture and Forestry (AF) and Alberta Education in a specialization of their choosing. Please visit the Green Certificate Program for more information on specializations and benefits of this program.
If you have any questions or concerns or are an employer who would like to participate in any of the programs with our students please contact Heather Brantner at heather.brantner@horizon.ab.ca or 587-370-7187.
Virtual Mentorship Series - Young Women in Trades and Technologies