Literacy - Professional Reading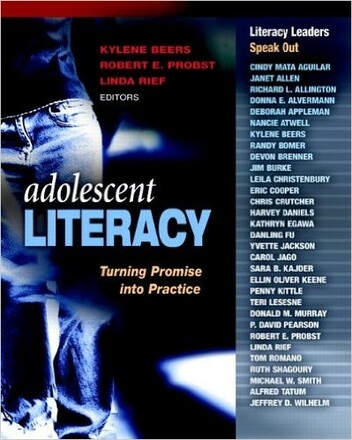 The most influencial names in Adolescent literacy are part of this comprehensive text that will excite teachers and give them new ideas to consider. Wanting to make sure that all students are prepared to be active participants  in this changing world. This  guidebook will explore new practices to try, and will help shape both public conversation and classroom practice. This book,revisions adolescent literacy, which is based on globalization that literacy  demands are shifting and becoming more complex.  
Edited by Kylene Beers, Robert E. Probst and Linda Rief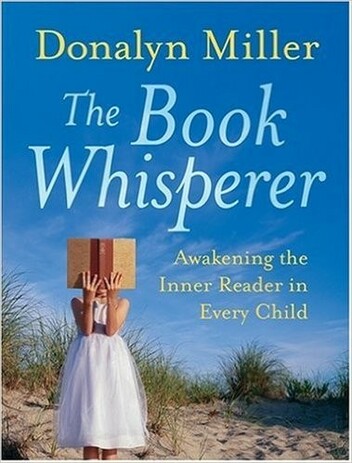 Miller's strong love for reading and her desire to develop lifelong readers is inspiring. She is crafty in her way of sweeping her students into her reading world. This book is a great read that should encourage teachers to take a closer look at the readers in their classrooms and the way they teach reading and support the students. Donalyn sets forth both an argument and evidence for immersing kids in reading as the alternative to the reading lessons offered in hopes of improving test scores. She takes a look at book reports, whole class novels, vocabulary lists, quizzes and worksheets and gives teachers some alternate suggestions to best meet the needs of students. Miller is a teacher who understands how to teach reading, but also knows that it is not the same thing as knowing how to LOVE reading. This book is for the teacher who teaches reading in grade 4-8.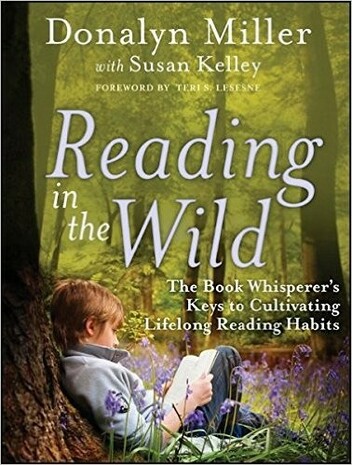 Teaching students to become lifelong readers A companion to the bestselling The Book Whisperer, Reading in the Wild explores whether or not we are truly instilling lifelong reading habits in our students and provides practical  strategies for teaching "wild" reading. Based on survey responses from over 900 adult readers and classroom feedback, Reading in the Wild offers solid advice and strategies on how to develop, encourage and assess key  lifelong reading habits, including dedicating time for reading, planning for future reading, and defining oneself as a reader.Includes advice for supporting the love of reading by explicitly teaching lifelong reading habits. Contains  accessible strategies, ideas, tips, lesson plans and management tools along with lists of recommended books co-published with Editorial Projects in Education, publisher of "Education Week" and "Teacher Magazine"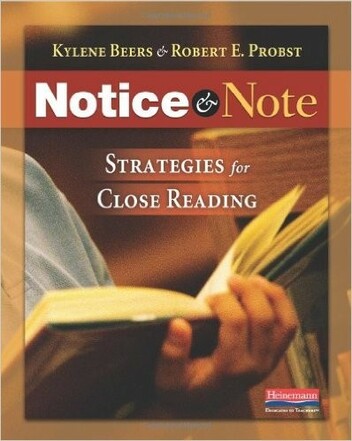 These two books are written by Kylene Beers and Robert E. Probst. The authors of these books look at signposts that students need to be taught to fully comprehend  and notice significant moments in a work of literature.  Notice and Note is a practical guide that examines the new emphasis on text dependent questions, rigor and text complexity. What does it mean to be literate in the 21st century. Beers and Probst provide 6 text dependent  anchor questions that help readers take note and read more closely. In Reading Non-fiction Beers and Probst have looked at 3 big questions that develop the stance needed for attentive reading, 5 signposts that help readers  analyze and evaluate the author's craft and 7 strategies that develop relevance and fix up confusions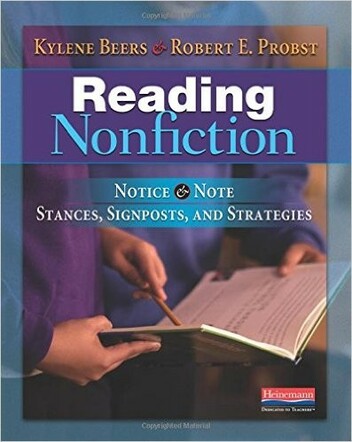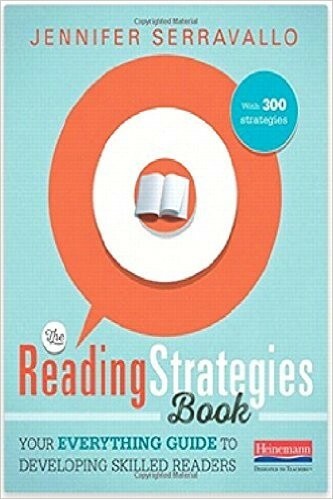 Your Everything Guide to Developing Skilled Readers
With hit books that support strategic reading through conferring, small groups, and assessment, Jen Serravallo gets emails almost daily asking, "Isn't there a book of the strategies themselves?" Now there is.
"Strategies make the often invisible work of reading actionable and visible," Jen writes. In The Reading Strategies Book, she collects 300 strategies to share with readers in support of thirteen goals—everything from fluency to literary analysis. Each strategy is cross-linked to skills, genres, and Fountas & Pinnell reading levels to give you just-right teaching, just in time. With Jen's help you'll:
develop goals for every reader

give students step-by-step strategies for skilled reading

guide readers with prompts aligned to the strategies

adjust instruction to meet individual needs with Jen's Teaching Tips

craft demonstrations and explanations with her Lesson Language

learn more with Hat Tips to the work of influential teacher-authors.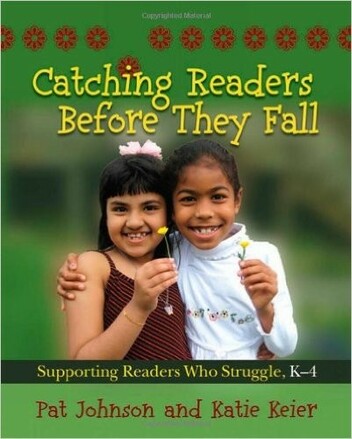 Every teacher of reading plays a vital role in helping to catch those readers for whom learning to read does not come easily. If you have ever been at a loss for what to say and do when confronted with a child who struggles—this book is for you.
Through examples from both adults and children, the authors explain and describe the complex integrated network of strategies that goes on in the minds of proficient readers—strategies that struggling readers have to learn in order to construct their own reading processes. The examples and scenarios of teacher/student interactions in Catching Readers Before They Fall provide a sense of how it looks and what it sounds like to teach strategic actions to struggling readers.
This book is essential reading for all who work with struggling readers in any context and contains a wealth of resources:
A thorough explanation of all the sources of information readers use to solve words, including examples of what beginning or struggling readers might do, and how teachers can respond.

Ways in which teachers can prompt struggling readers to use skills and strategies effectively.

Lessons that model how to use the sources of information and how to teach for strategies, such as, checking and confirming, visualizing, questioning, inferring, and others.

Ways to obtain ongoing assessment data consistent with strategy teaching and suggestions for organization and management.

Practical answers to commonly asked questions from parents.
Pat Johnson and Katie Keier will help you acquire a bounty of teaching ideas to employ as you work with your readers who struggle.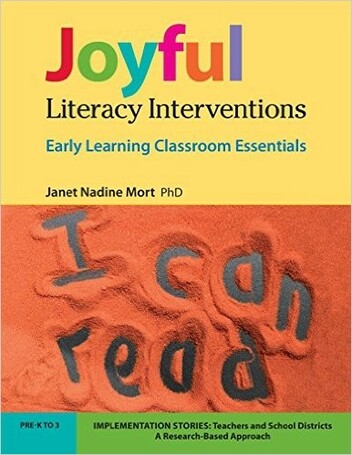 About This Book: Joyful Literacy Interventions describes a research-based, comprehensive classroom intervention approach that promises over 90% literacy success for all children by the end of third grade when implemented in its entirety. The stage  is set in a playful primary classroom learning environment. While play is critical in early learning classrooms where child development theories must prevail, vulnerable children need more than play. Play is simply not enough! This book is also about  explicit skill instruction in preschool, kindergarten and first and second grade—as a top priority. What makes this book unique is that Janet describes how to implement a skill-mastery model invisibly in a play-based environment through games, play,  inquiry and targeted small group instruction. Janet's passion and determination to make a difference for disadvantaged children shines through in Joyful Literacy Interventions. Her book is based on the most recent literacy research such as the NELP  (National Early Literacy Panel, 2008) report, which is a meta-analysis of 500 exemplary literacy studies conducted in the last decade. This compelling research highlights the factors that have the most lasting effect on future reading success if  implemented in the early years.  Joyful Literacy Interventions weaves the essential components together into practical classroom applications that are already proving to be highly effective for disadvantaged children. This book is a "must-read" for advocates of vulnerable children.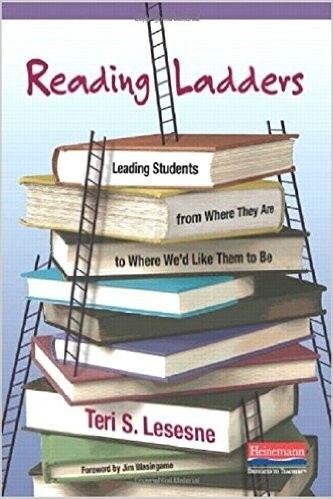 By Teri Lesesne 
Foreword by Jim Blasingame
Many of us are searching continually for that just-right book for each and every one of our students. It is my hope to help you find those books. More importantly, I hope to help you guide students to the next great book and the one after that. That is the purpose of Reading Ladders. Because it is not sufficient to find just one book for each reader. —Teri Lesesne
"I finished the Twilight Series—now what?"
With Reading Ladders, the answer to a question like this can become the first rung on a student's climb to greater engagement with books, to full independence, and beyond to a lifetime of passionate reading.
"The goal of reading ladders," writes Teri Lesesne, "is to slowly move students from where they are to where we would like them to be." With reading ladders you start with the authors, genres, or subjects your readers like then connect them to book after book—each a little more complex or challenging than the last. Teri not only shares ready-to-go ladders, but her suggestions will help you:
select books to create your own reading ladders
build a classroom library that supports every student's needs
use reading ladders to bolster content-area knowledge and build independence
assess where students are at and how far they've climbed.
"If we are about creating lifetime readers and not just readers who can utilize phonological awareness and context clues to bubble in answers on a state test," writes Teri Lesesne, "then we need to help our students form lasting relationships with books and authors and genres and formats." Use Reading Ladders, help your students start their climb, and guide them to new heights in reading.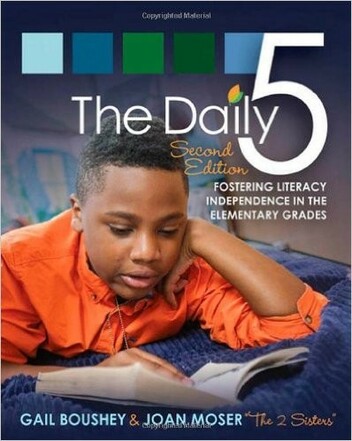 A number of teachers are incorporating some of the structures of "The Daily 5" (Gail Boushey, Joan Moser). Some find it offers the structure to implement the aspects of a balanced program. Here is the link to a number of resources and elements of the program: https://www.thedailycafe.com/articles/2015-Daily5-QR-Codes
The CAFE Workshop may give some guidance to teachers on designing instruction (focus lessons) amidst the Daily 5 task structure: https://www.thedailycafe.com/articles/2015-CAFE-QR-Codes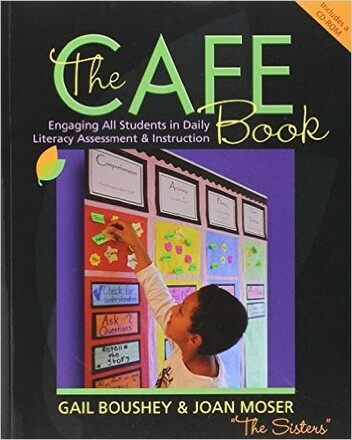 Teaching Comprehension According to two important references, research indicates that there are specific strategies that can improve comprehension and so they are beneficial to teach your students. We have used these as the basis for selecting the six modules of comprehension in our CD-ROMs. Duke and Pearson (2002) have identified these as ƒ prediction/prior knowledge; ƒ think-aloud; ƒ text structure; ƒ visual representations; ƒ summarization; ƒ questions/questioning. In the National Reading Panel Report (2000) the same strategies were identified, but the report separated "questions generating" and "question answering". It also listed "comprehension monitoring" and "cooperative learning" as effective strategies but Duke and Pearson included "comprehension monitoring" in think-aloud to some extent and we have provided a great deal on monitoring in our think-aloud module because the best way to model all kinds of monitoring and fixup strategies is through thinking out loud. As for "cooperative learning" we believe the same as Duke and Pearson, that this is an instructional approach that is implicit in all comprehension teaching. This collaborative work among teachers and students is one of the guiding principles of our work. You will find more information in the Guiding Principles section of this CD-ROM.  Follow the following lins for the CD-Rom printed versions