Back to New Listing
New Associate Superintendent-Human Resources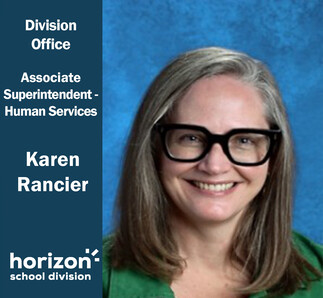 Horizon School Division Welcomes New Associate Superintendent of Human Services for the Horizon School Division:
Karen Rancier
The Board of Trustees for The Horizon School Division is pleased to announce the appointment of Ms. Karen Rancier as Associate Superintendent of Human Services commencing with the 2023-2024 school year.                          
Ms. Rancier's education was completed through the University of Lethbridge where she earned a combined B.A./B.ED., with distinction, in music with a specialization in Special Education; she also holds a master's degree in leadership and administration.  
Ms. Rancier has spent the last 30 years as an educator with the Lethbridge School Division. She began her career as a music and classroom teacher for 7 years before making a career change from teacher to Vice Principal (8 years) and then Principal (6 years). From there, her career shifted into the role of Director of Curriculum and Instruction, a position she has held for the past 8 years, before accepting the offer of Associate Superintendent of Human Resources for The Horizon School Division.
In her spare time Karen enjoys biking and walking with her husband, singing, playing the piano, and doing puzzles.
When asked to share her thoughts about her new career opportunity with Horizon School Division Karen wrote:
I'm honoured and excited to be joining Horizon School Division and look forward to establishing strong and lasting relationships with members of our diverse school communities.
I am enthusiastic about working with an influential and effective team that is committed to ensuring that all students reach their highest potential.
I am grateful for the opportunity this position will provide to work alongside the talented staff in Horizon and am looking forward to serving and collaborating with them, their students, and families.
Horizon is looking forward to leveraging Karen's system leadership experience and commitment to fostering effective relationships as we continue to focus on our three strategic priorities (strong instruction, response to intervention, and wellness & well-being). Please join us in welcoming Karen to Team Horizon, commencing the 2023-2024 school year.
Marie Logan, Board Chair