Back to New Listing
Horizon School Division Welcomes New Instructional Coach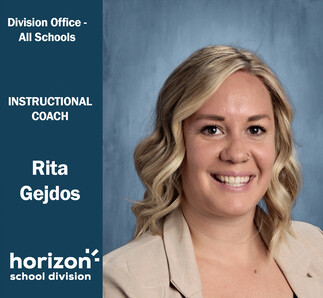 The Board of Trustees for The Horizon School Division is pleased to announce the appointment of Mrs. Rita Gejdos as Instructional Coach commencing with the 2023-2024 school year.                          
Mrs. Gejdos has a Bachelor of Arts in Humanities and a Bachelor of Education in English and Drama from the University of Lethbridge.  Mrs. Gejdos has 9 years of teaching experience within the Horizon School Division at Vauxhall High School, as well as participated in a 1 year teaching assignment in Australia on the ATA Teacher Exchange Program.  Rita is very excited to spend time in all of the schools within the Division supporting teachers in planning and assessment.
Rita is married and lives in Skiff, Alberta.  In her spare time, she enjoy golfing, gardening and curling.
Please join us in congratulating Mrs. Rita Gejdos in her new assignment, within The Horizon School Division, commencing the 2023-2024 school year.
Marie Logan, Board Chair