Back to New Listing
Congratulations to Horizon Board Chair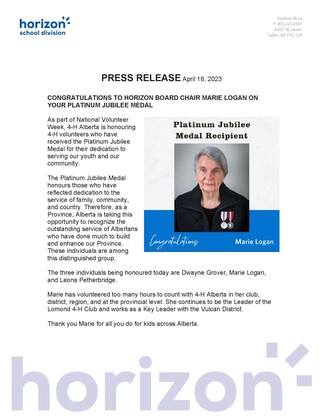 CONGRATULATIONS TO HORIZON BOARD CHAIR MARIE LOGAN ON YOUR PLATINUM JUBILEE MEDAL
As part of National Volunteer Week, 4-H Alberta is honouring 4-H volunteers who have received the Platinum Jubilee Medal for their dedication to serving our youth and our community.
The Platinum Jubilee Medal honours those who have reflected dedication to the service of family, community, and country. Therefore, as a Province, Alberta is taking this opportunity to recognize the outstanding service of Albertans who have done much to build and enhance our Province. These individuals are among this distinguished group.
The three individuals being honoured today are Dwayne Grover, Marie Logan, and Leona Petherbridge.
Marie has volunteered too many hours to count with 4-H Alberta in her club, district, region, and at the provincial level. She continues to be the Leader of the Lomond 4-H Club and works as a Key Leader with the Vulcan District.
Thank you Marie for all you do for kids across Alberta