English Language Learning - Professional Reading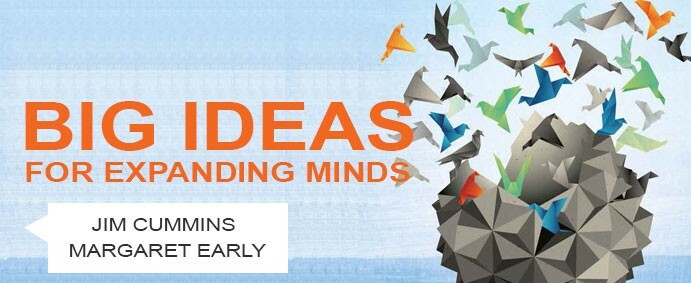 Cummings and Early have used decades of teaching experience and current academic learning to show how the student new to English is often at a disadvantage in the classroom when  the strategies of  administrators and teachers are not coordinated at the school level across the curriculum. The authors clearly state that this issue is going to continue to take on a greater  importance as communities change due to  human movement and immigration in the 21st century.
 The book has eight chapters divided into three sections, applicable to all ELLs from K to 12. Section 1 deals with the struggles that ELLs tend to experience. Citing research that supports  the instruction strategies  outlined lends "power to the punch." Section 2 provides many concrete strategies that can be used in the classroom across the language, math, social studies and  science curriculum through "big ideas." Although  only one chapter long, the last section has the greatest impact for possible success, by advocating for a school-wide approach to ELL.
For teachers interested in gaining further insight into the ideas and strategies offered by the authors, the appendix offers a list of books for additional reading, and interestingly includes a list of provincial websites "focusing on English Language Learners." For a really engaging read, don't miss the powerful preface to this book. It serves as a clarion call to action for all of us who are engaged in teaching the English Language Learner of the new century.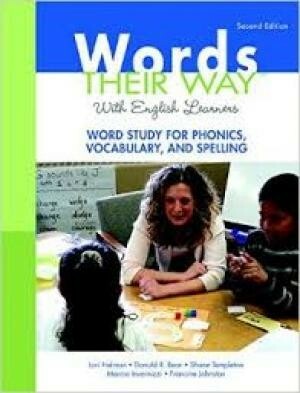 Word study can be a powerful instructional method for teachers and their English learning students.  With this book you can evaluate students' language needs.  Empower your students to grasp this new language at the word level, building skills to understand how English differs from their primary language, and providing them with the skills to predict word meaning through spelling.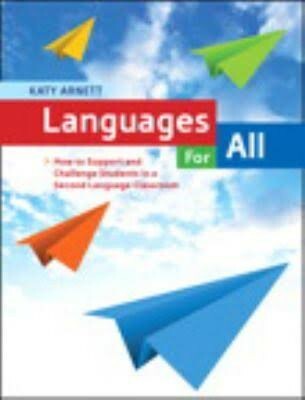 With Languages For All, Pearson Canada once again breaks new ground by providing second language teachers with the philosophy, the inspiration, and practical guidance on how to effectively employ adaptive, differentiated, and inclusive instruction for  diverse student needs. This is the first text of its kind.
Fifty Strategies for Teaching English Language Learners, Fourth Edition, by Adrienne Herrell and Michael Jordan,includes a rich assortment of practical strategies aligned to TESOL standards which have been field-tested in diverse classrooms. Each strategy includes a brief explanation, step-by-step instructions on how to plan and use the strategy, and two classroom scenarios demonstrating how the strategy can be adapted for different grade levels and content areas. Herrell and Jordan have included additional language and literacy development strategies, technology strategies, and assessment strategies to support both pre-service and inservice teachers.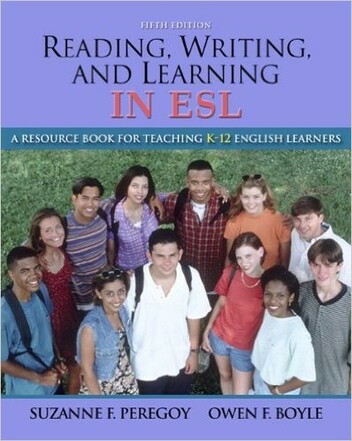 In this comprehensive, accessible guide, pre- and in-service K-12 teachers get a firm understanding of the essential topics of first and second language acquisition along with teaching and assessment strategies for oral  language development, vocabulary, writing, reading, and reading and writing across the curriculum. With its strong research base, engaging style, and helpful descriptions of specific teaching strategies, Reading , Writing, and  Learning in ESL, 6e explains how contemporary language acquisition theory informs instruction, while providing suggestions and methods for motivating ELs' English language, literacy and content learning. New material in this  Sixth Edition includes an in-depth discussion of academic language; an exploration of the demands of Internet reading compared to traditional text reading; a presentation of Response to Intervention (RTI) as applied to ELs;  and a wealth of Internet resources throughout the book.
Differentiated Early Literacy for English Language Learners: Practical Strategies by Paul Boyd-Batstone
This brief and highly practical text offers pre-service and in-service teachers strategies and activities for differentiating early literacy instruction for English language learners.
The author draws on a wealth of classroom experience working with teachers and students to create a book that gives readers the critical information they need to teach English language learners in an accessible format. This book is packed with strategies and activities that are directly applicable to the classroom and that focus on meeting the early literacy demands of No Child Left Behind. Early literacy strategies for English language learners are differentiated according five levels of language proficiency.  The book includes a wealth of tips for parent involvement,  offering ways parents, who may not be literate in English, can help their child develop literacy skills.  Assessment tools for differentiating levels of English proficiency are included throughout to help pre-service and in-service teachers assess levels of English proficiency in order to differentiate instruction.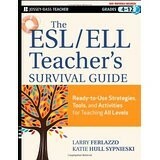 Most teachers have English learners in their classrooms, from kindergarten through college. The ESL/ELL Teacher?s Survival Guide offers educators practical strategies for setting up an ESL-friendly classroom, motivating and interacting with students, communicating with parents of English learners, and navigating the challenges inherent in teaching ESL students.
Provides research-based instructional techniques which have proven effective with English learners at all proficiency levels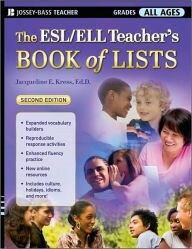 The ESL/ELL Teacher's Book of Lists by Jacqueline E. Kress, Ed.D. This unique teacher time-saver includes scores of helpful, practical lists that may be reproduced for classroom use or referred to in the development of instructional materials and lessons. The material contained in this book helps K-12 teachers reinforce and enhance the learning of grammar, vocabulary, pronunciation, and writing skills in ESL students of all ability levels. For easy use and quick access, the lists are printed in a format that can be photocopied as many times as required. A complete, thoroughly updated glossary at the end provides an indispensable guide to the specialized language of ESL instruction.